'It doesn't focus on tragedy': September 11 musical tells Sydney a story of kindness
February 2nd, 2020
By Louise Rugendyke
The Sydney Morning Herald.
A musical born from tragedy that has become an unexpected worldwide hit will finally make its long-awaited Sydney debut, after a record-breaking run in Melbourne.
Come From Away is the story of Gander, a small town on the island of Newfoundland off the east coast of Canada, which unexpectedly became home to 38 wide-bodied jets and about 6579 air crew and passengers when all US-bound flights were grounded after the September 11 terror attacks in New York.
With very little notice, the townsfolk rallied over five days, cooking food, setting up sleeping quarters, offering their homes to strangers and donating so much toilet paper an urgent request was made for them to stop.
It's not an obvious choice for a musical, with terrorism and thick Newfoundland accents being natural bars to a jolly night at the theatre, but with its message of kindness – the opening of arms to the "come from aways" – the musical has found runaway success. It was a sleeper hit on Broadway, picking up the Tony Award in New York for best direction of a musical in 2017, while the London production won an Olivier Award for best new musical in 2019.
"It doesn't focus on the tragedy of that day," says actor Zoe Gertz, who plays Beverly Bass, an American Airlines captain whose flight from Paris to Texas was diverted to Gander on that fateful day. "It focuses on the message that out of tragedy, human beings want to help each other, that it can inspire great generosity and kindness from one another."
That message of generosity has had an immediate spillover effect on the Melbourne production, which has become the most successful show ever staged at the 92-year-old Comedy Theatre since the musical opened in July last year.
"A couple of weeks ago we did a bucket collection for the bushfires – all of the theatres in Melbourne did," says Gertz. "Our theatre only holds 1000 people, but we easily collected the most money because the show makes people want to do good. I've never seen generosity like it. I had to call the company manager over because I had to empty my bucket twice. It was overflowing."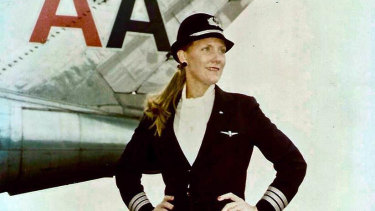 The show came about after writers David Hein and Irene Sankoff visited Gander on the 10th anniversary of the terror attacks and began interviewing the townspeople and some of the passengers and crew who had returned for a reunion. Of all the personal stories in the show, the one that stands out is that of Bass, who was not only the third woman to become a pilot with American Airlines, but their first female captain.
Her determination to become a pilot and her struggles in overcoming sexist attitudes is captured perfectly in the song Me In the Sky – "But the World War II pilots, they all complained. They said, 'girls shouldn't be in the cockpit'" – which Gertz had the spine-tingling pleasure of singing to an audience of woman pilots, which included the real-life Bass, at an international conference in Sydney.
"I had a realisation in the middle of the song, and I'm looking out at all these women, and I thought, 'This is your song. This is your story as well'," says Gertz. "This isn't just Beverley's story, it's all of your stories. The idea of what you've had to push through in a very male-dominated industry. They were emotional and then I had to do everything I could to fight back tears."
Before the show opens in Sydney in August, the cast are travelling to China in April for a tour and, despite the threat of the coronavirus, Gertz says there are no plans to postpone the trip.
"At the moment, we're assuming by then everything will be fine," she says. "We're being kept in the loop by our Australian and Chinese producers and I have no doubt they will not send us over if there's any kind of risk."